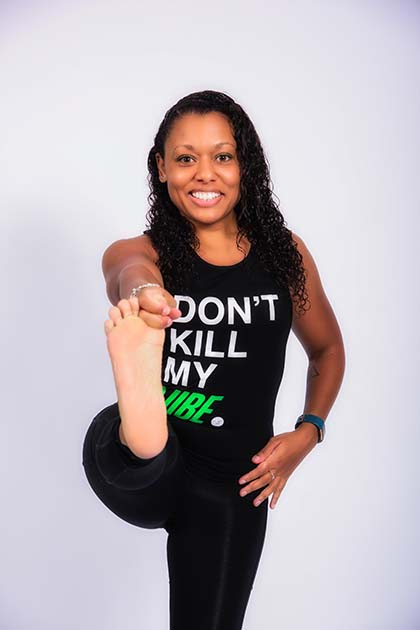 Natalie Clark teaches Yoga Sculpt, which combines Vinyasa yoga with weights, cardio, plyometrics and core work. Natalie is originally from NY and her second home is DC. She enjoys yoga, pilates, hiking, dancing, long distance running, photography, beach vacations & listening to podcasts. Her favorite musical artist is Nina Simone and her favorite visual artist is Frida Kahlo. People are often surprised to learn that Natalie has over 30 tattoos (and counting!). She lives with her beagle-mutt MoMo, is a vegetarian, an Enneagram 4 and loves the color green.
Natalie always enjoyed running but never really took fitness seriously until she got sick with Grave's Disease in 2010. She went from running half marathons to not being able to walk up a flight of stairs without passing out. Grave's Disease negatively impacted everything – heart rate, blood pressure, body temperature, vision, weight, skin, nails, and hair, as well as the ability to grasp and hold objects. After her surgery in 2013, once she was cleared for physical activity again, Natalie took her first yoga class. She quickly fell in love with yoga and once proficient in the practice, she pursued many yoga trainings in ATL, DC, NY & FL.
Natalie's an outgoing and encouraging teacher whose classes are fun, creative and energizing. She believes in welcoming and including students of all abilities and levels, and offering intelligent and challenging sequencing in order to motivate and inspire everyone who comes to the mat. She considers yoga to be a tool for transformation that builds strength, stamina, resilience, trust, balance, peace, harmony and healing within individuals and communities.