Vibe Ride's Midtown studio has partnered with Kemboocha, a local brewer who uses local, organic ingredients to make a green kombucha juice. This cleansing juice comes in 16oz bottles, and you can choose a 1, 2, 3, or 4 day cleanse. Each day you will consume six bottles of the kombucha. BUY THE KOMBUCHA CLEANSE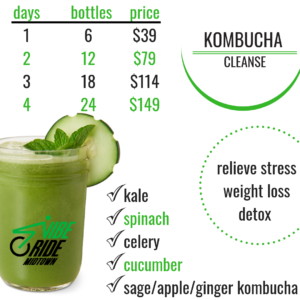 ORDER
Once you place your order on the Midtown Buy Page, email us at info@theviberide.com to arrange a pickup time and date at our Midtown studio. Please allow about 7 days for your order to be brewed and ready for pickup. Bottles retail for $8 each, so our cleanse packages offer a great discount!
PREPARATION
Be sure to consult a doctor or health professional who can assess your specific ability to participate in a cleanse, and contact him or her if you feel ill while cleansing. At least two days before you start your cleanse, reduce your intake of processed and fatty foods in favor of fresh fruits and vegetables, get into the habit of drinking a glass of water every 2 to 3 hours and cut back on caffeine, refined sugar and alcohol. Non-cream and non-grain soups will also help you prepare. Be sure to let us know you are joining the kombucha cleanse clan, and provide your phone number so we can add you to our GroupMe for support and tips!
CLEANSE
It is normal to feel more tired than normal due to your body working overtime to detox, so be sure to rest as needed. You can workout on cleanses if you are used to a regular workout schedule. In addition to the 6 bottles of our kombucha cleanse, you should also drink 4-8 glasses of water per day.  You may also consume herbal teas and a limited amount of non-starch vegetables that don't cause bloating.
For a bonus, visit Perspire Sauna Studio in Buckhead to optimize your cleanse. This is Atlanta's only infrared sauna studio that allows you to relax and detox in your own, private sauna room while watching cable TV, Netflix, or listening to music
AFTER
Leave your cleanse the same way you started! Make sure you retain the benefits by sticking to healthy fruits and vegetables for the 2-3 days after your cleanse and maintain a healthy diet thereafter!